I have been working on a deck that has the card named Sen Triplets. The card allows you to play out of other peoples hands and on your turn they can't cast anything so a very OP card.
This card,  you might notice, makes me have to play all colors of Mana so I have to add cards like chromatic lantern. This deck is a fun one and has people wondering. Lots of cards that are in here are in inexpensive and sen triplets is the bug banger at $50-%60 Now that is a lot I know.
Here are some other cards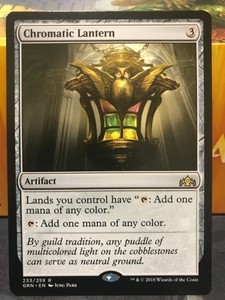 those are some of the cards in the deck now I will show you how it is supposed to work
life land
Hero of Precinct One
Chromatic Lantern
Sen Triplets
play out of your hand
play out of our hand/ more hero's
Sphinx Summoner reaction make 4 3/3 flyers
hit for so much damage
game over/repeat
So that is how this deck is made to work. It does have bad games but over all it is very fun to play. Next time a will talk about Pandemic the board game, except it is legacy so we tear up cards and white out rules.